ARIPO TRAINING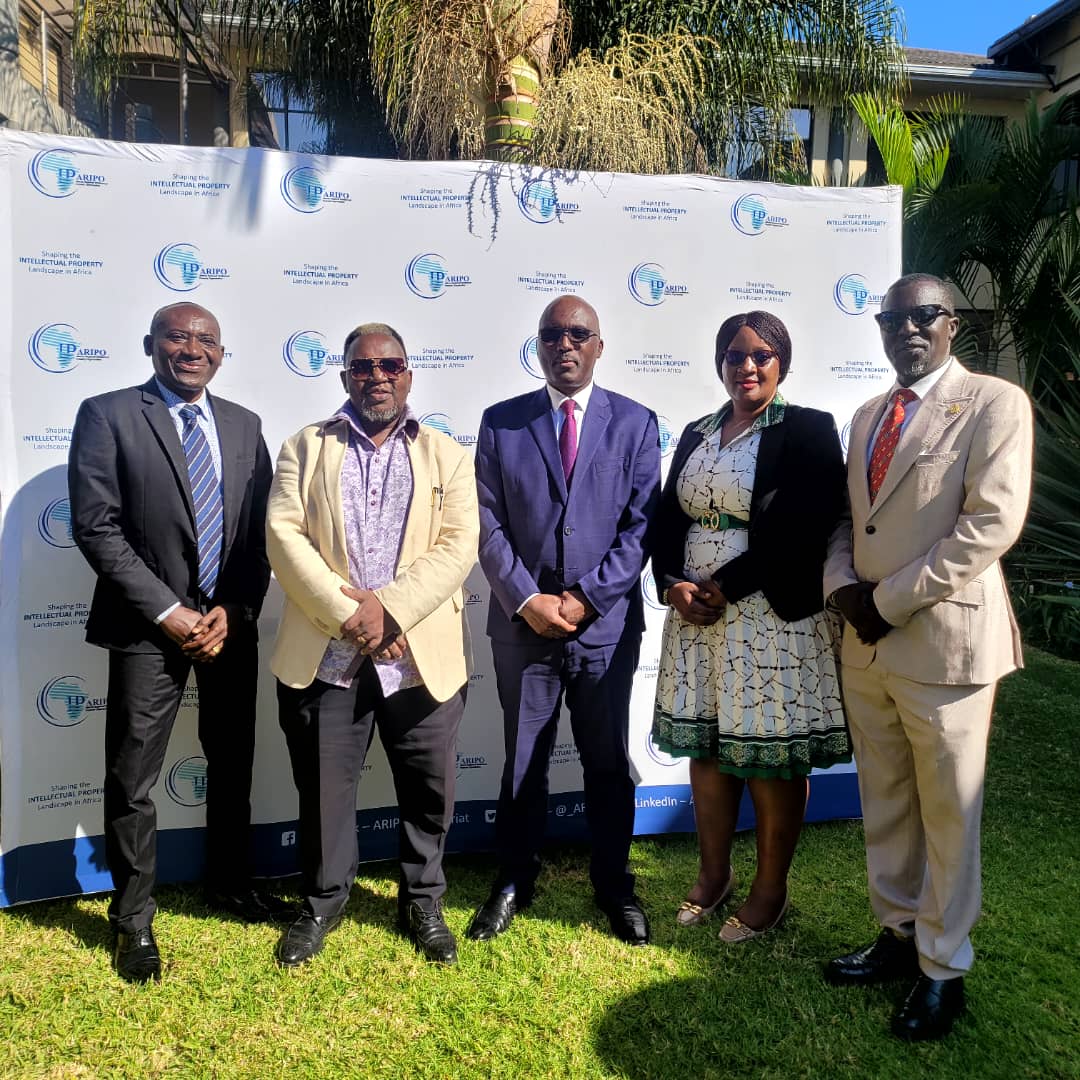 From the 29th to the 30th of May 2023, the African Regional Intellectual Property Organization (ARIPO) Regional Training for Collective Management Organizations (CMOs) was held in Harare. Mr. Bemanya Twebaze, Director General of ARIPO, formally launched the event, which was attended by Board Chairpersons and CEOs from ARIPO Member States. Uganda Performing Rights Society (UPRS) and Uganda Federation of Movie Industry (UFMI) were among the Ugandan CMOs that participated.
The two-day workshop intended to improve CMOs' effective management of intellectual property rights by utilizing best governance practices. Chairman Mr. Okello Kelo Sam and CEO Ms. Nassuna Morrine Sharon represented UPRS at the training. The Director General of ARIPO emphasized the significance of transparency, accountability, and good governance in building stakeholder trust in the IP system in his remarks.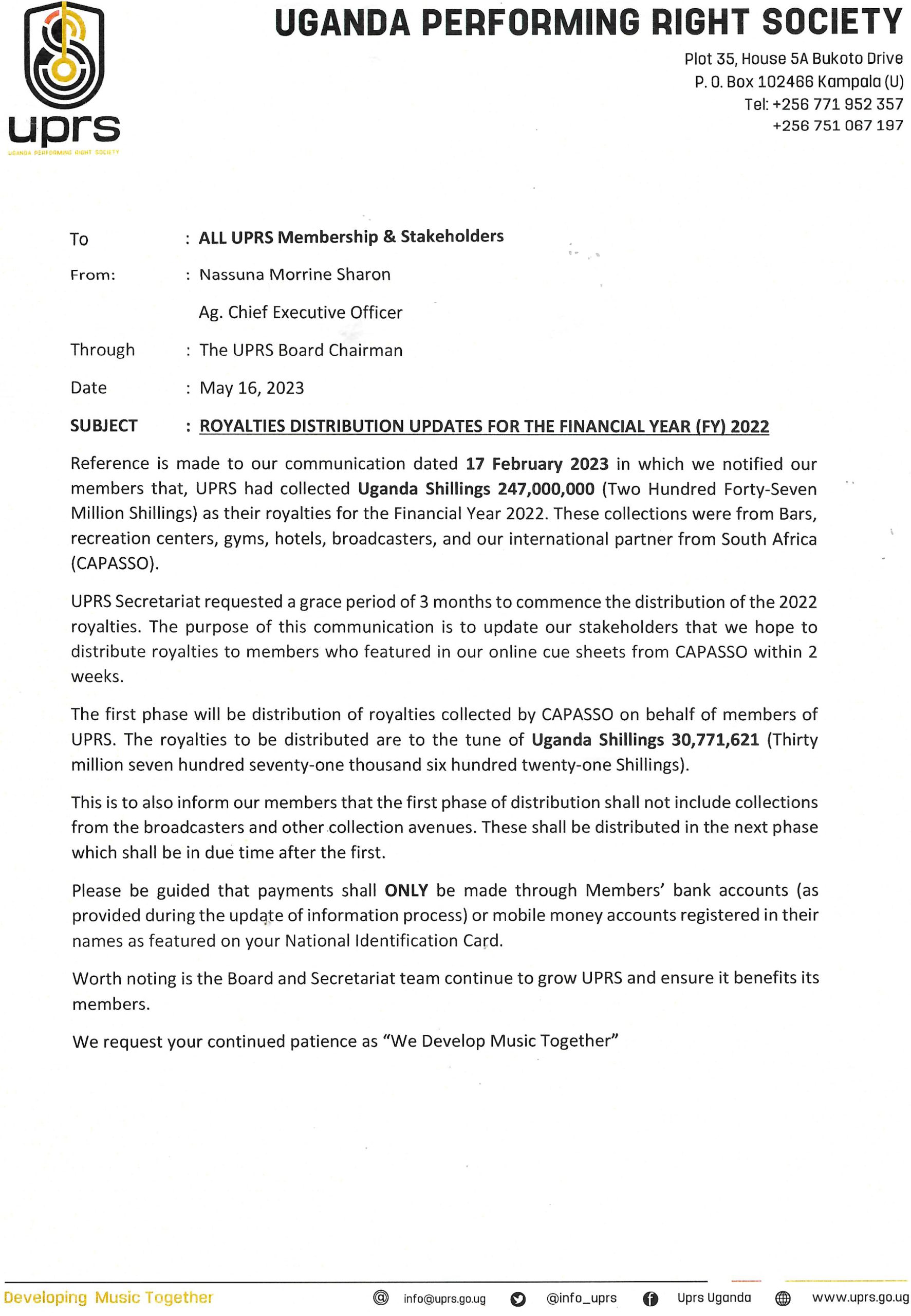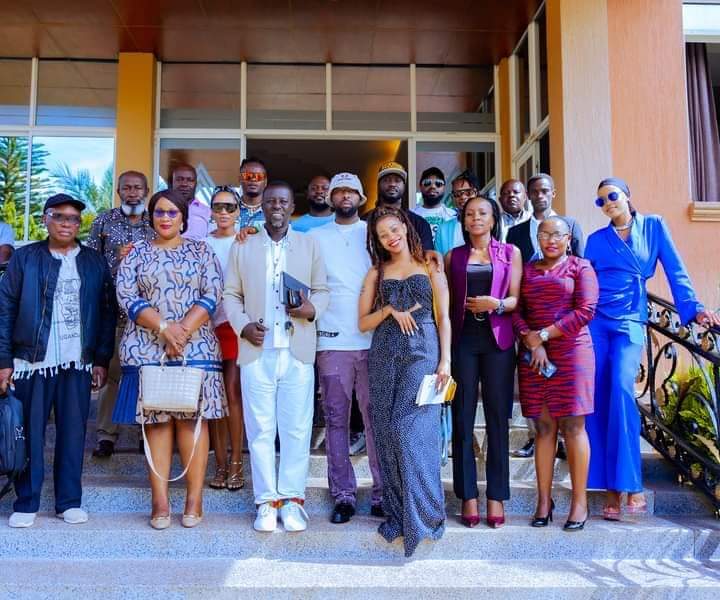 UPRS MEETING WITH UNMF
The Uganda National Musicians Federation (UNMF) and Uganda Performing Right Society (UPRS) had a discussion to address key concerns related to royalties for music creators. They agreed to acquire advanced music usage monitoring technology to obtain accurate usage cue sheets, establish transparent royalty distribution rules, collaborate to enhance the collection of royalties, identify new music revenue streams, and adopt efficient processes.
Mr. Edrisah Musuuza AKA. Eddy Kenzo, the President of the UNMF,
emphasized their commitment to strengthening the ties with UPRS and working tirelessly to expand the music industry.
The UPRS CEO, Ms. Nassuna Morrine Sharon, advised all UPRS members to guarantee that all newly created songs be registered with the Society for adequate monitoring and documentation. According to the UPRS CEO, managing copyright and related rights individually is not always feasible. For example, an author, performer, or producer cannot call every single radio station to negotiate licensing and compensation for the usage of their songs. On the other hand, it is impractical for a radio station to acquire permission from every composer, performer, and producer for each song's use. In this scenario, UPRS facilitates rights clearance in the interests of both parties while also compensating rights holders whose works are commercially used by public entities.
Finally, the UPRS Board Chairman Mr. Okello Kelo Sam urged all non-UPRS members to join the CMO in order to obtain royalties from consumers of their musical compositions.
Developing Music Together
UPRS Licensing Agency Training.
UPRS has undertaken training Licensing Agents, who will be responsible for ensuring that all commercial users of our members' works across the country comply with their duties of getting a music license, allowing our members to be fairly compensated. The training was conducted from April 17th to April 21st, 2023.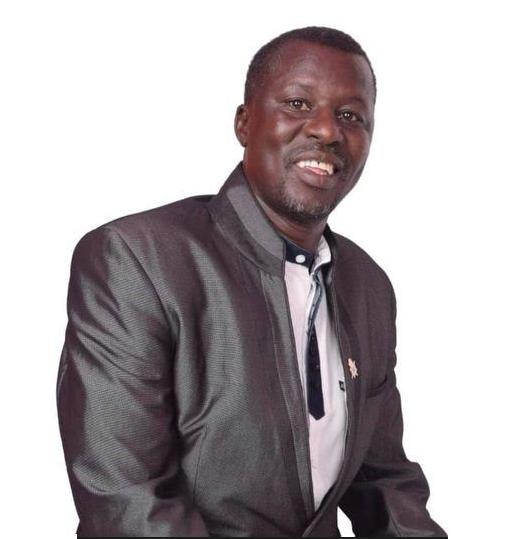 UPRS CONGRATULATES THE NEW UPRS BOARD CHAIRMAN, MR. SAM OKELLO KELO
The Uganda Performing Right Society (UPRS) congratulates Mr. Sam Okello Kelo on his appointment as the new Board Chairman. Mr.Okello Kello Sam replaces Mr. Kabiito Karamagi who served as Board Chairperson from October 2020 to February 2023. Mr. Same Okello Kelo is a Music creative in Uganda and has served in many positions including Chairman Board of Trustees of the Uganda National Cultural Centre. He is a member of UPRS, Uganda Musician Association, and president-elect of the Rotary Club Kampala.
Mr. Okello is not only creative but also brings with him vast experience both locally and internationally which qualified him as the ideal candidate for this position. He has been a strong advocate for creatives and has worked tirelessly to promote their interests.
Professor Mangeni Patrick one of the elected Board Members in his remarks appraised Mr. Sam Okello Kelo for his impeccable work from the time he was his student and had no doubt that he shall steer the ship to its right destination. He mentioned that he was confident that he will bring his wealth of experience and knowledge to this new role and acknowledged that he shall advance the interests of the creatives.
In his new role as the Board Chairman of UPRS, Mr. Sam Okello Kelo will be responsible for providing strategic leadership and direction to the organization. He will work with the board and management team to ensure that the organization fulfills its mandate.
Uganda Performing Right Society is a society that was formed in 1985 by authors (mainly musicians) to advance the cause of copyright administration in Uganda. It is registered with the Registrar of Companies as a Company Limited by Guarantee having no share Capital, in other words, it belongs to all of its members. UPRS is recognized by the Government as a Collecting Society and it is a Member of the Confederation of International Societies of Authors and Composers (CISAC).
UPRS fraternity is committed to working with Mr. Okello to advance the interests of its members. He recognizes the importance of protecting the rights of creatives, increasing their collections, and ensuring that they receive fair compensation for the use of their works as an essential part of achieving this goal.
UPRS fraternity congratulates Mr. Sam Okello Kelo on his appointment and wishes him success in his new role.

UPRS Embarks on a National Campaign to Sensitize Music Users on Copyright Law
Uganda Performing Right Society (UPRS) is embarking on a journey to sensitise music users in different parts of country about the copyright law and the need to get a license before using anyone's music for commercial purposes. UPRS held its first outreach workshop at Vision Empire in Mbarara city on Friday, 10th 2023 to sensitise bar owners, broadcasters, nightclubs, discotheques, bars, restaurants, shops, banks, mobile discos, hoteliers, video libraries, among others. More workshops will be held in Gulu and Kampala in March 2023. According to the Acting CEO of UPRS, Nassuna Morrine Sharon, the workshops are part of a national-wide campaign dubbed #FriendsOfUgandanMusic aimed at creating copyright compliance, increasing the amount collected in royalties and thus the amount disbursed to the artists. "The purpose of this meeting is to engage with our clients and, at the same time, sensitise them on the important issues around collecting and distributing royalties to our members. We intend to enlighten our clients about their obligations as stated in the Copyright and Neighbouring Rights of 2006 and trust that these engagements shall promote a positive mindset towards copyright licenses," she said. Nassuna added, "As UPRS, we are mandated by our members, copyright owners, and the law to collect royalties on behalf of our members so that they can benefit from their work. We found it fit to hold these workshops for our clients to educate them before we embark on the licensing process and royalty collection."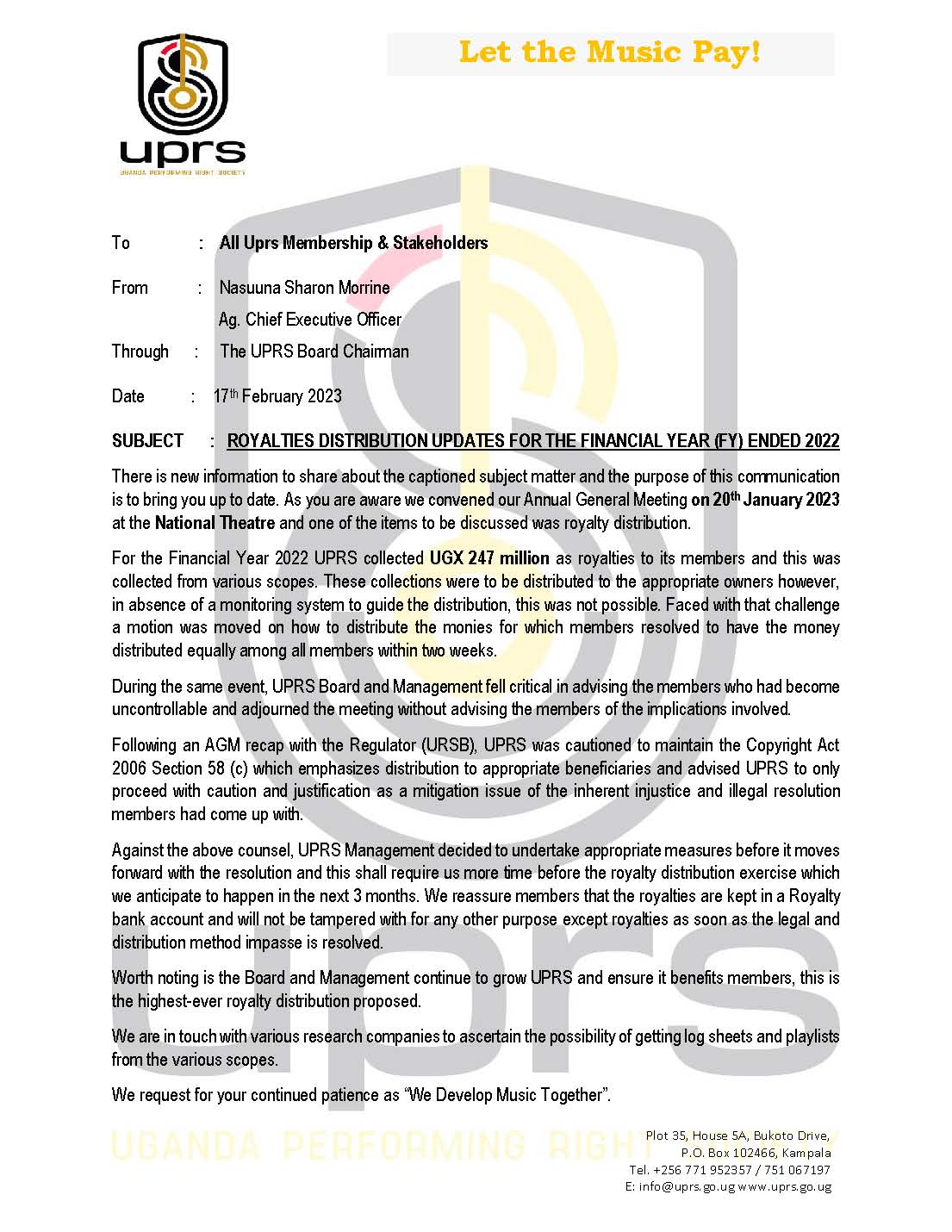 UPRS Hosts Successful Annual General Meeting, Awards compliant license payers
 Kampala, Uganda: Uganda Performing Right Society (UPRS) successfully held its Annual General Meeting (AGM) on Friday, 20th January 2023, at the National Theatre and awarded their compliant clients in the different sectors who have paid for their copyright licenses religiously in the past years.
The AGM was fully attended by UPRS registered members, Uganda Music Association Officials, National Cultural Forum (NCF) officials, UPRS board members, senior management, the regulator, Uganda Registration Services Bureau (URSB) among others  and provided a forum for UPRS to share its performance and future plans with its stakeholders.
As a result of the AGM, UPRS members were able to come to several resolutions such as;
UPRS Members suggested and passed major resolutions, including unanimous votes to distribute a historical record of the highest-ever Royalties to registered members worth UGX 247 million.
UPRS Members resolved that the regulator, Uganda Registration Services Bureau (URSB), takes up the appointment of a substantive auditor to replace the old auditors who resigned.
UPRS Members also resolved to sue Uganda Communications Commission (UCC) to implement the accord signed in Gulu in 2022 for UCC to ask all broadcasters to get a clearance from UPRS before renewing their broadcasting licenses regularly.
Members positively received the 2023 work plan, including completing the takedown and clean-up of all digital rights on the internet and distribution platforms worldwide.
Appointment of a 3rd party agency (Standby Promoters) to rapidly grow royalties collection from all commercial users countrywide
"We are pleased to report another successful year for UPRS," said UPRS Board Chairman Kabiito Karamagi, who presided over the meeting. "We are grateful for the support of our shareholders, stakeholders and members and are committed to continue delivering value for them. We look forward to the future with confidence and are excited about the opportunities ahead for UPRS." he said. At the same meeting, UPRS awarded 25 compliant clients that have been paying their UPRS license conservatively. "This is to thank you for paying for your annual copyright licenses without us reminding you. You have proved that you are truly a friend of Ugandan Music by performing your duty diligently. We call upon other music users to also pay or renew their license so that we can develop Ugandan music together," said Nassuna Morrine Sharon, the UPRS Ag CEO
Complete List of UPRS Clients that were awarded 
Broadcasters
Nation Media Group
Next Media Group
Vision Group
Radio One /Two
Sanyu Fm
Capital FM
Super Fm
Restaurants
Kati Kati Restaurant
Romeos Restaurant
Java House coffee shop ltd
Kuku foods (u) ltd –KFC Limited
 Hotels
Hotel Africana
Sheraton hotel
Serena Hotel
Protea Hotel
Bars/ Discotheque
Illusion Club
Nexus Najeera
Riders Lounge
Torine Bar and Restaurant
Thrones Bar& Restaurant
Guvnor Discotheque
Old timerz Ntinda
Casablanca Kololo
Shops/malls/supermarkets
Carre four supermarket
Knight Frank Limited
UPRS Announces 2022 Press Conference
We held a Press Conference at our headquarters in Bukoto to announce our Annual General Meeting that will be held on 20th January 2023 at the Uganda National Theatre. "We invite all our members to attend so you can contribute to the discussion towards the growth of UPRS. For the first time we will present an audited accounting report for the last 4 years, prepared by qualified independent auditors" ~ Robert Semakula one of the Board Directors. "This AGM will help us to refocus ourselves on growing Uganda's music after years of hardships. COVID-19 disrupted our revenue base. The economy is recovering and we hope for better performance and higher payout for our members," ~ Morrine Nassuna, CEO – UPRS. At the same event, we shall be launching a new campaign dubbed "Friends of Ugandan Music" aimed at improving music user's compliance towards the copyright music licence payments which will in turn increase the royalties paid to the right owners.